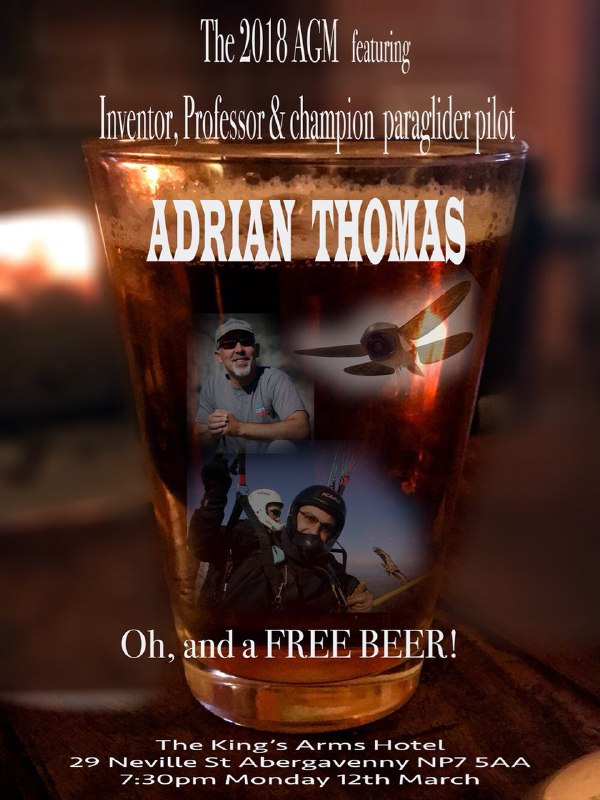 Our club AGM is on Monday 12th March at 7.30pm at The Kings Arms Hotel Abergavenny.
We are very pleased to announce that Prof Adrian Thomas is going to be our guest speaker.
As I'm sure most of you know, he is a SEW Club Member and is prof. of Zoology at Oxford University. He spends some of his time analysing how birds and insects fly and how their flying ability has evolved. He is also an exceptional paraglider pilot with a long history at the highest level competitions. He should give us a fascinating talk.
As before, there will be a free drink to all club members who attend. We have lots of exciting news about sites to announce. We are also giving out the trophies for the Club Competitions for 2017 and the first of the XC distance medals (don't forget to send your .igc  tracklogs to sewchairman@gmail.com if you think you qualify for a medal).
We have some exciting news to announce about new sites ready for 2018.
All the committee positions are up for re-election. If you want to get involved, then please step forward.
Some of the roles take up a little more time than others, but in general, they involve a small amount of work plus attendance at the committee meetings which run every other month currently. let me know on sewchairman@gmail.com or PM via telegram if you want any more information about any of the positions, or if you would like to be considered for one of them.