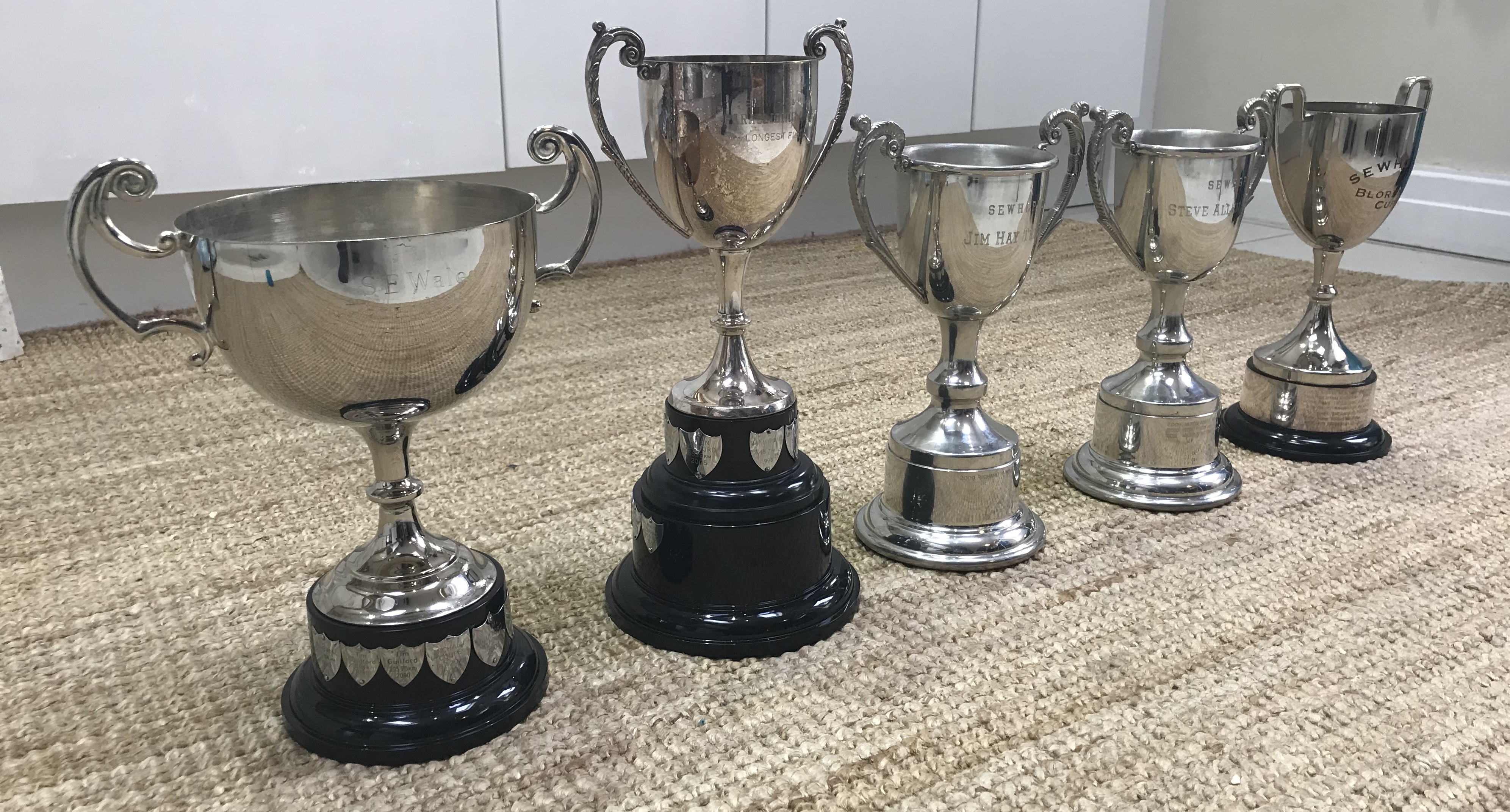 SEW Awards
The club is pleased to announce it has obtained past SEW paragliding trophies and has reconditioned these. They will be awarded to SEW members only. The flying season will commence each year on 01 November and finish on 31 October the following year. Trophies will be engraved with the winners name and then awards will follow shortly after the end of the season.
1.
SEW

XC

League Winner
– furthest total distance flown in the
XC
league (over 6 flights, using "standard" scoring setting) by anyone with their primary club set as "SE Wales". Results here: 
http://www.

xcleague

.com/

xc

/
. 2017 winner – Alistair Andrews.
2. SEW Longest Flight Cup – Furthest flight from any SEW site. HG or PG allowed. 2017 winner – Harry Bloxham.
3.
Jim Hay Trophy
– Furthest flight by a newcomer (typically in their first year of
XC
flying). CP rated pilots only. HG or PG allowed. 2017 winner – Mark Willison.
4. 
Steve Allen Trophy
–
furthest
XC
flight in the
BCC
by a SEW team member. Results here:
 http://www.

flybcc

.co.

uk

/
 2017 winner – Alistair Andrews.
5.
Blorenge

 Cup
  – furthest flight (using XC League scoring criteria) with take-off from the Blorenge. Multiplier flights (such as triangles or out and returns) and declared flights are recognised for their technical difficulty but must be submitted to the XC League if the competitor wants the multiplier applied. HG or PG flights allowed. 2017 winner – Remi Pickett.
6. Capital Trophy – furthest flight by anyone taking off in Wales and landing in Cardiff. HG or PG allowed (see capital trophy page for further details).
The club would like to support SEW members obtain their
FAI
paragliding badges. Further information on
FAI
badges are here: 
https
://www.
fai
.org/page/
civl
-badges
FAI paragliding awards can currently be obtained for:
Bronze Eagle – Flying 30 km OR Duration 1.5 hours OR height gain of 500 m
Silver

Eagle
– Flying 75 km AND Duration 3 hours AND height gain 1000m (we have confirmed with the BHPA that 3 separate flights can be used to meet these criteria).
SEW Distance Medals
This will be awarded to any SEW member who completes a distance flight (in the UK or abroad) of:
25 km, 50 km, 100 km, 200 km.
Good luck and safe flying!