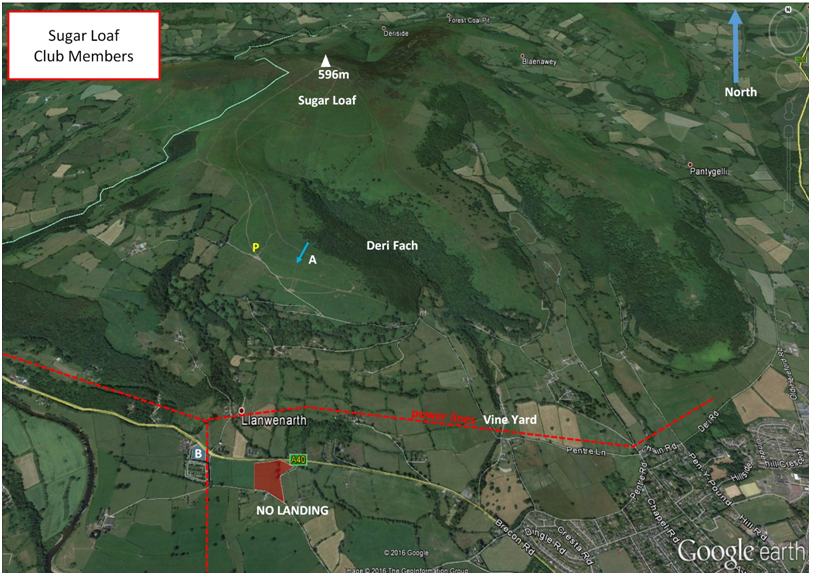 Status: Members Only

>
Site Latitude: N51.843223
Height ASL Meters: 340 m
Site Longitude: W003.059595
Height ASL Feet: 1115 ft
Wind Direction: SSE-SSW
Height Top to Bottom Meters: 290m
Best Direction: SSW
Height Top to Bottom Feet: 950ft
Minimum BHPA Rating Hang Gliding: BHPA Pilot rating
Member status: Members Only
Minimum BHPA Rating Paragliding: BHPA Pilot rating
OS Grid Reference and Prefix: SO 271 166
Please park in the National Trust car park as marked on the map.
Latitude:  N51.843223
Longitude:  W003.059595
Take the A40 from Abergavenny or Crickhowell, turn onto the minor road signposted to the vineyard (NP7 7LA). After the vineyard continue up the hill, around the hairpin bend, take the right fork past the house for approximately ½ mile.
NB The Sugar loaf is a very popular tourist spot so the narrow road can be busy; please show consideration to other users.
Take-off is actually from near the car park of Mynydd Llanwenarth which is a foothill of the Sugar Loaf.
Access to take-off is by foot only. Park at the official National trust car park, walk east 250m along road to the unofficial parking spot, then walk up hill 50m. A 25m wide strip of bracken is cut late summer which makes take off easier for paragliders. When the bracken is at its highest, use one of the grass tracks which run parallel to the road. Take-off is very shallow, very often with a line of cars parked where the slope then flattens out (so don't park here but use the National Trust car park). This is a technical, alpine style, take-off. It is only suitable for experienced pilots.
Take-off is in the lee of the trees in front and you can expect significant sinking air (and/or turbulence) before you clear the tree line in front.
Top landing is possible to the NE of take-off (A).
Bottom Landing (B) is small and technical. It is bordered to the north and south by trees, west by the farm house, and east by power lines. It is only suitable for light, or nil, wind days.
South East Wales sites often have very large, undefined take off and top landing areas, which may change position according to conditions. To avoid the potential for collision, pilots making a top landing should keep well away from gliders taking off, who may in some cases have limited visibility.
This is essentially a nil/light wind thermal site. Dynamic ridge soaring is unlikely as a strong enough breeze is likely to be very turbulent, but it can be possible to use the anabatic flow to soar the slope on warm afternoons and evenings.
For paragliders it is advised that the site is only flown in a LIGHT SSW. If the wind is coming from the direction of the Blorenge it is very difficult to gauge genuine wind speed and you may encounter severe turbulence.
The site is in the lee of the Blorenge and so liable to extreme turbulence in anything above 15mph. SSE & S, can be turbulent on take-off. SW can give severe sink at the spot where the cars are usually parked. There are tall trees and a wall below the road which are not visible from take-off.  There are power lines running parallel to the ridge near to the A40.