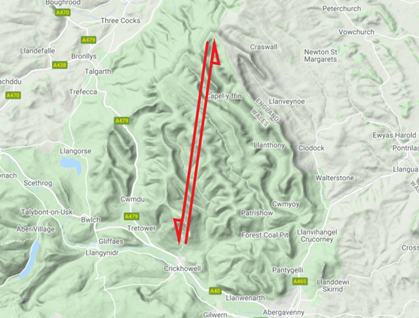 In introduction to Vol Biv and an opportunity to discover the potential of the Black Mountains to a Hike and Fly pilot.
Sponsored by Crickhowell Adventure outdoors shop, opposite the start point. Crickhowell Adventure have very kindly offered to get behind the challenge by offering anyone participating a 10% discount on a wide range of their products. Please provide us with a few pictures which we can share with them on their social media as a thank you.
Start Point – The Lucas Memorial Fountain, Crickhowell High Street
Turn Point – Hay Bluff Trig Point
Goal – The Lucas Memorial Fountain, Crickhowell High Street. However if you are still flying and going XC a 400m cylinder on the Lucas Memorial Fountain with your track going through it is goal, keep going!
Rules
From the start point in Crickhowell you must reach and touch the trig point at Hay Bluff before returning to goal in Crickhowell.
You must spend one night out under the stars in the Black Mountains while completing the challenge.
A paraglider, harness, helmet and reserve must be carried at all times. In the spirit of Vol Biv you must also carry what you intend to sleep in.
The only modes of transport permitted are via paraglider or by foot.  Use either as much or as little as you need.
Air law must be respected and this means flying is restricted from 30 minutes before sunrise to 30 minutes after sunset. Travel on foot can occur outside of these times (although you will need suitable equipment if you choose to do this).
The site rules must still be respected for any flights off club hills (eg. Magic, Pandy, Hay Bluff).
To complete the challenge evidence must be supplied demonstrating you at each point (start, Hay Bluff trig and finish), and you camping out somewhere dramatic! Acceptable evidence includes: Photos (selfies) with timestamps taken at each point, an igc file or 4D gps file demonstrating position and altitude or a complete livetracking file with a position at each turn point.
There is no time limit, completion is the goal.
The Challenge can be attempted at any time of year.
Automatic disqualifications will occur for: anyone found using another vehicle (including driving or hitching as a passenger), riding an animal along the course, over-flying the Hay Bluff turn point (without physically touching the trig point), breaking air law, unsafe flying (as determined by the SEW committee), not carrying complete equipment, for not following site rules or for other reasons as determined by the SEW committee.
As you travel please use Telegram to update the club on your progress for our interest and your safety. Safety is ultimately your responsibility.
On completion please post on the SEW Telegram Chat and tell us how it went. You should then challenge 2-3 SEW club members who should complete the challenge within a year.
Notes
The total straight line distance for the route is 37km, you will cover a greater distance over the ground on foot and in the air.
You should consider carefully what you carry to aid your safety and comfort. Some considerations are camping equipment, meals, water/purification tablets, warm clothes for the night time, batteries and a means of communication.
Phone signal is generally good on top the hills, but poor in the valleys so consider sending a 'safe' message before descending into a valley for the night.
Tactics
The route is achievable by ridge soaring the faces of the Black Mountains. A good flying day would give you the opportunity to fly right over the Black Mountains. Consider the wind directions you would prefer and keep an eye on the forecast.