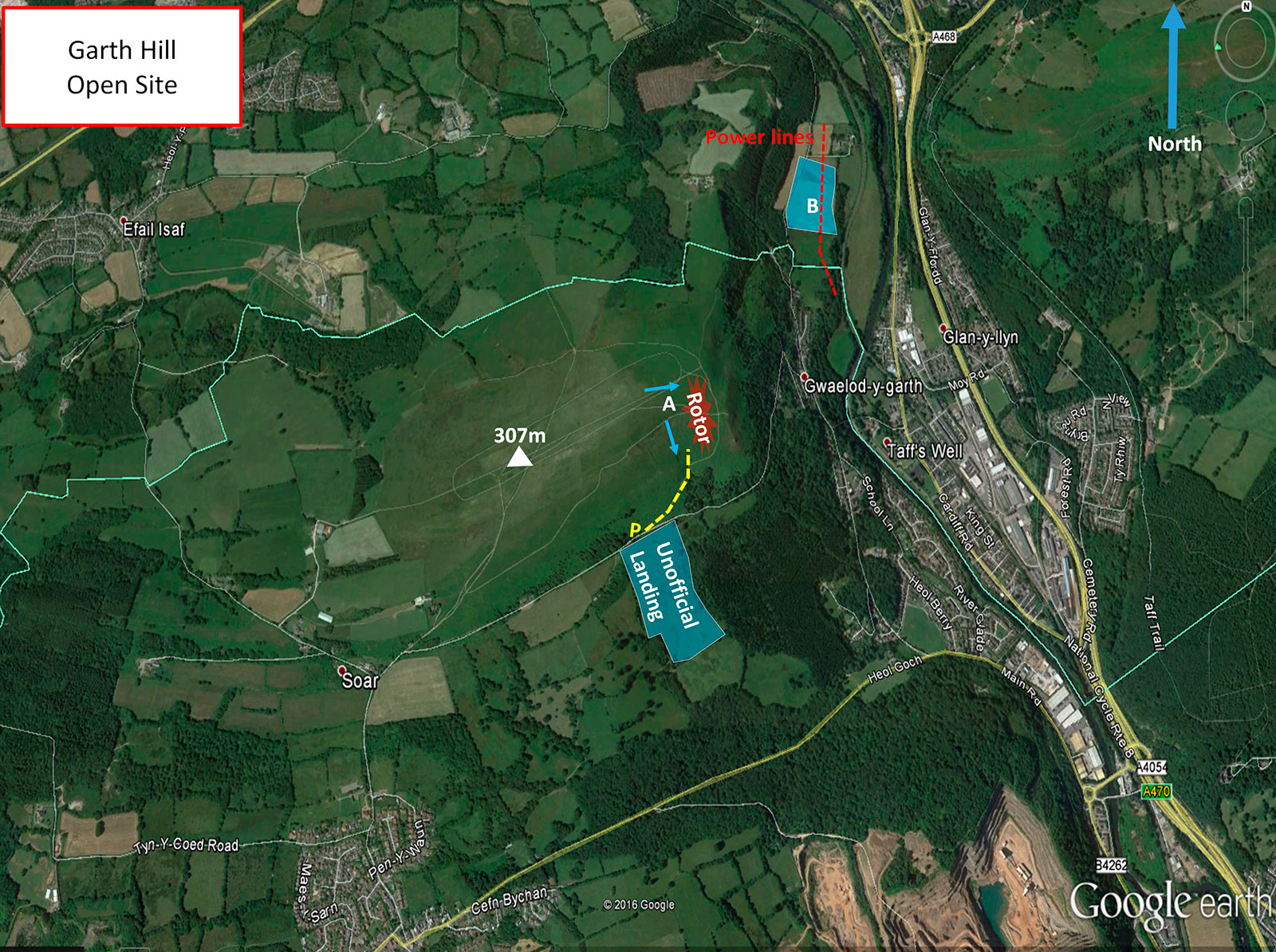 Status: Open

Site Latitude: N51.544299
Height ASL Meters: 250m
Site Longitude:W003.280484
Height ASL Feet: 820ft
Wind Direction: ENE - SSE
Height Top to Bottom Meters: 200m
Best Direction: E
Height Top to Bottom Feet: 670ft
Minimum BHPA Rating Hang Gliding: BHPA CP rating
Member status: Open Site
Minimum BHPA Rating Paragliding: BHPA P rating
OS Grid Reference and Prefix: ST 106 836
Latitude: N51.542059
Longitude: W003.286442
By minor roads from Pentyrch.
Turn right onto the narrow road that runs along the base of the hill, and park in the lay-by at the east end (just before the road starts to go downhill again). It is often easier to approach from the west (Pen-y-garn end) – and not the very steep narrow approach via Gwaelod-y-Garth. This road is subject to subsidence, and is sometimes completely inaccessible from Gwaelod-y-Garth too. Carry up the SE side of the hill (quite steep).
Take-offs on Garth Hill offers spectacular views over Cardiff, the Severn Estuary and across to the North Somerset coastline.
There are two take-off areas, Southeast and East. Access to both is by foot only, a long hard carry up. Beware of rotor behind the East take-off. If the wind is off the hill, expect turbulence from the South-East side in particular.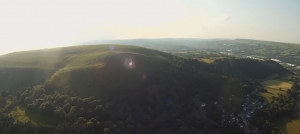 Looking back at Garth hill. The South side is most prominent in this photo. Photo courtesy of Tom Petith.
The top landing area (A) is quite large and fairly flat. But the steep slope and vegetation on the front of the hill makes paraglider slope landings difficult.
The bottom landing field (B) is on the East side, and can be difficult to reach if winds are off to the North. This is especially true for paragliders. Beware of low power cables running through the middle of the undulating official bottom landing field, and along the road. It is recommended you visit the bottom landing field prior if this is your first time at the site. Do not pass gliders over the hedge. Carry gliders out via the farm track. The owner lives in the adjacent farm.
The recent area "unofficial bottom landing" has been used by pilots. This arrangement has not been negotiated with the land owner. If you do end up landing here, be considerate and use gates to exit the field.
South East Wales sites often have very large, undefined take off and top landing areas, which may change position according to conditions. To avoid the potential for collision, pilots making a top landing should keep well away from gliders taking off, who may in some cases have limited visibility.
In an easterly this site has limited capacity, a maximum of two gliders soaring at any one time. The site can provide pleasant flying in light evening winds, but in strong winds can be turbulent behind the trees and quarries. The take-off area has a 4000ft air space ceiling directly above it. Further to the west the airspace drops to 3000ft. Be familiar with air space restrictions before flying.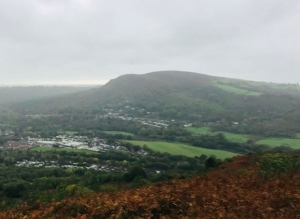 East side of Garth Hill (as viewed from Craig yr Allt).
Beware of walkers and cows on top of the hill.
The bottom landing field is tricky, and well worth a preflight visit.