Entry is automatically free for all SEW members as you have permission to fly from the 3 Peaks. If you are a non member you can purchase a week long 3 Peaks Hike and Fly Ticket from the SEW Webcollect store or join the club as a full member.
THE SEW 3 PEAKS CHALLENGE – rules updated February 2020
A scenic hike and fly challenge around the Sugar Loaf mountain, Blorenge and Skirrid Fawr.
Dates: 01 October – 15 March every year to become the Challenge Champion. All year if you do not want to be the champion.
Start point: Abergavenny Castle entrance (Abergavenny Museum), Castle Street, Abergavenny. NP7 5EE
Peaks: Sugar Loaf, Blorenge and Skirrid Fawr.
Finish point: Abergavenny Castle entrance (Abergavenny Museum), Castle Street, Abergavenny. NP7 5EE [updated February 2020]
Image below of the Abergavenny Castle entrace start-finish point – OS grid ref SO 299 140 What3Words location: amazed.weary.sending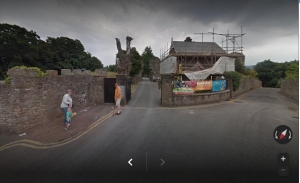 Rules:
– From the start point you must reach and 'touch' all 3 peaks' trig points (in any order you choose) and then reach the finish point.
A paraglider, harness, helmet, reserve and must be carried at all times.
The only modes of transport permitted are via paraglider or by foot.
The site rules must still be respected for any flights off the hills – ie. To fly off the Sugar Loaf Mountain and Skirrid a current SEWHGPGC membership is required and the flight must be logged for the Skirrid (site guide for more details).
The start must be commenced on foot (not by air) from the Abergavenny Castle entrance.
The trig points of each peak must be touched whilst on foot by the challengee.
The 3 Peaks Challenge is only finished when the challengee touches the Abergavenny Castle entrance at the finish point.
To compete for the title of 3 Peaks Challenge Champion then evidence must be supplied demonstrating you at each of the five turn points (start, 3 peaks and finish). Acceptable evidence includes: Photos (selfies) with timestamps taken at each turn point, an igc file or 4D gps file demonstrating position and altitude or  a complete livetracking file with a position at each turn point.
Air law must be respected and this means flying is restricted from 30 minutes before sunrise to 30 minutes after sunset. Travel on foot can occur outside of these times (although you will need suitable equipment if you choose to do this).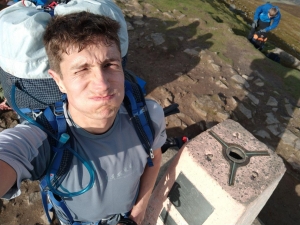 Dan Starsmore at one of the trig points.
Automatic disqualifications will occur for: anyone found using another vehicle (including driving or hitching as a passenger), riding an animal along the course, over-flying the turn points (without physically touching the trig points), breaking air law, unsafe flying (as determined by the SEW committee), not carrying complete equipment, for not following site rules or for other reasons as determined by the SEW committee.
If you successfully complete the challenge you should post an image on SEW Telegram Chat. You should then 'challenge' 2-3 other SEW paragliding club members who should attempt to complete the 3 peaks challenge within the season. Club members who fail to even attempt the challenge will be expected to explain why! You cannot challenge club members who have already completed the task.
CHAMPION CHALLENGER – this will be the person who completes the challenge in the fastest time from the period 01 October to 15 March.
Image below of the Abergavenny Castle – it is next to a lane which runs down to the Castle Meadows.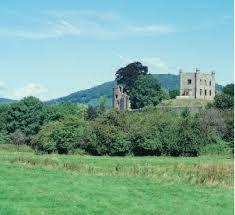 Notes:
The total straight-line distance is 21 km in the order: start-Blorenge-Sugar Loaf-Skirrid-finish (distance covered on foot will be considerably larger – about 34 km).
Altitude ascent by foot: 1445 m approximately. This will vary depending on where you are able to fly to and from.
Tactics – consider how the wind will be changing throughout the day (based on the forecast). The weather station on the top of the Blorenge will be helpful if determining the actual wind in the area. Flying in to Castle Meadows (near the Abergavenny Castle) at the end will get you close to the finish point as you can cross over a gate at the end of the Meadows, onto a lane running to the castle entrance.
An anti-clockwise route chosen by Dan Starsmore.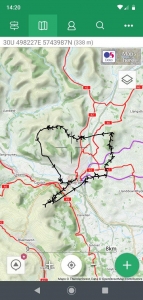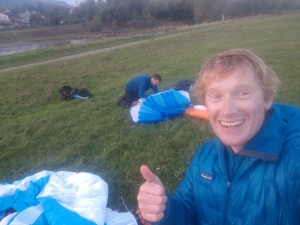 Ali Andrews and Aaron Binks (above) were noted to complete the first challenge on 19 October 2018.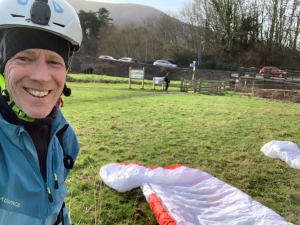 Laurence Hamilton-Baillie completed the challenge on 13 January 2022 in 3 hours and 41 minutes and holds the current course record. An absolutely out-standing time.  His route was clockwise starting with the Blorenge.  Interestingly the second fastest time (3hrs 49min) was set going anti-clockwise, starting with the Skirrid.  Any time within 6 hours is an excellent time. Just completing the task is a great feat.
In 2021/22 we saw 30 pilots attempt the challenge, with four completing the course in sub four hours which shows  how quickly the standard is improving.  Those who attempted is in the 2021/22 season are listed below.  Well done all.
Laurence Hamilton-Baillie – 3:41:00 RECORD
Steve Ashley – 3:56
Tosh (x2) – 5:25 / 3:58
Nick Hoult (x3) – -4hr
Greg Chilton – 4:07:26
Mark Simpson (x2) – 5:46:29 / 5:06:00
Ollie Clothier – 5:12
Chris Williams – 5:25
Rosie Ireland – 5:40
Mike Coupe – 5:54
Andrew Cullen – 5:56
Alan Styan – 6:00:25
Daniel Starsmore – 6:00:25
Jonathan Price – 6:24
Alex Harper – 6:32
Robert Davis – 7:30
Inga Markelyte – 8:51
Jonny Fox – 9:14
Gerry McNicol – 9:22
Andy McNicol – 9:22
Harvey Gamblin – 2/3 peaks
Peggy Williams – 2/3 peaks
Dave – 2/3 peaks
Charles Probert – 2/3 peaks
Tim Chandler
Gavin
Paul Jiggins (x2)
Stuart Mayson – (4th time)
Rob Anderson
Ruth Peacegood
Please message the SEW club if you have completed the course and your name does not appear above.
Below – Dan Starsmore at the finish point after becoming the first and only pilot to complete the challenge within 4 hours.