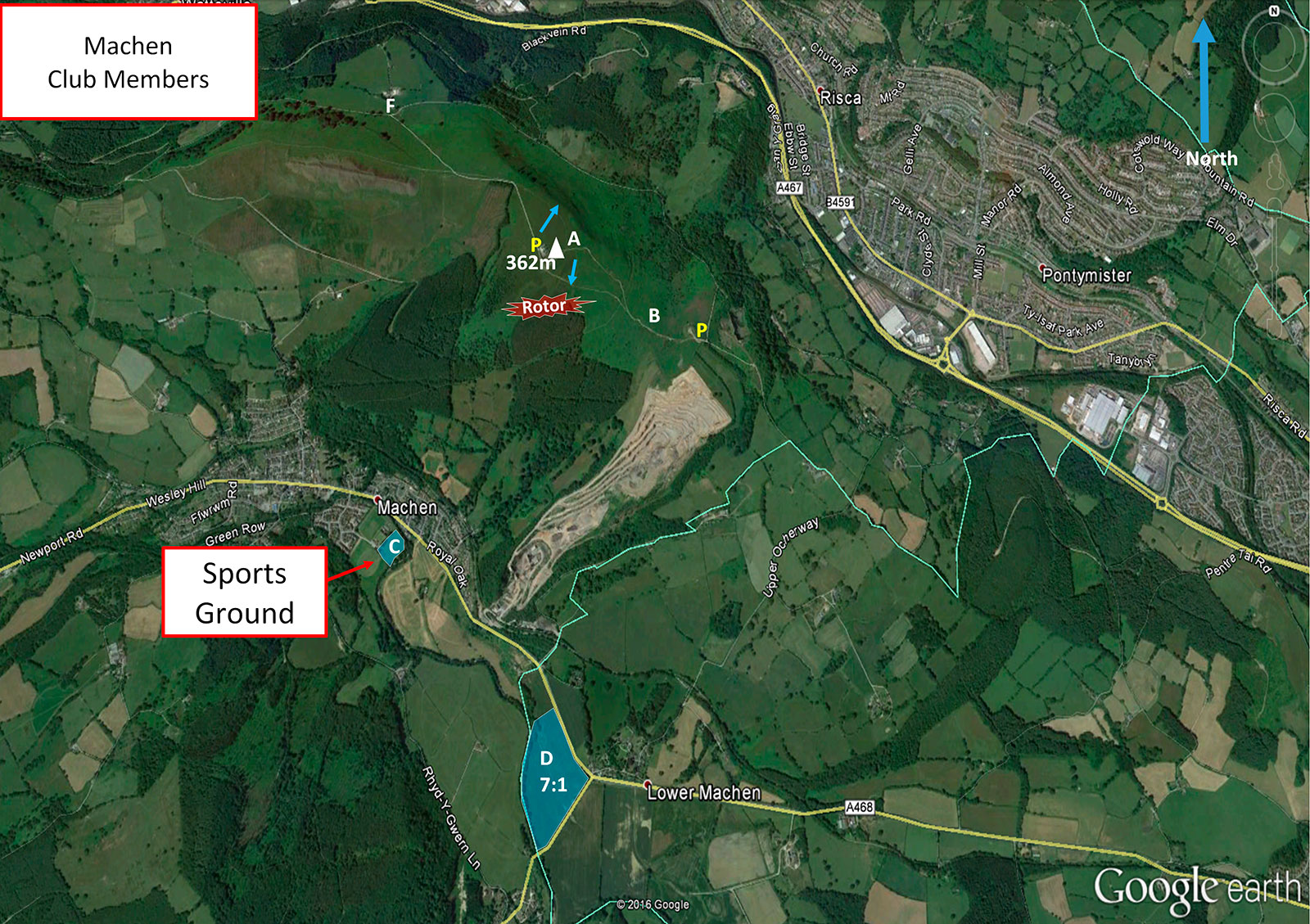 Status: Open

Site Latitude: N51.603811
Height ASL Meters: 366m
Site Longitude:W003.122369
Height ASL Feet: 1200ft
Wind Direction: SE-S and NE
Height Top to Bottom Meters: 300m
Best Direction: S and NE
Height Top to Bottom Feet: 1000ft
Minimum BHPA Rating Hang Gliding: BHPA P rating
Member status: Members Only
Minimum BHPA Rating Paragliding: BHPA P rating
OS Grid Reference and Prefix: ST 223 900
Access is a long hard carry on foot from the viewpoint car park or a short carry over rough ground from the parking area by the transmitter.
The south and south-east take-off is now dangerous to take off from – due to the trees out in front. The trees are gradually being removed from the hill. When the trees have been cleared in front of the south and south-east take-off the situation will be reviewed. Until then you are advised not to fly in any wind direction with tall trees up wind of take-off due to the turbulence they create and the glide required to clear them.
The steep NE take-off is little flown by hang gliders, and more suited to paragliders.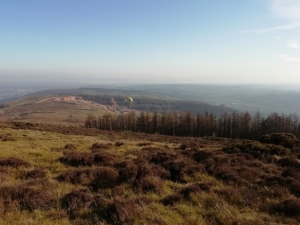 The SE take-off looking towards the quarry. Note the tall trees which will give off significant turbulence in increasing wind speeds.
Top land on the flat ground alongside the transmitter mast (A). There is no bottom landing on the north east side, but shoulder landings are possible by the viewpoint car park at (B) which saves a long walk up from the bottom. When/if the South face becomes flyable again, bottom landings are possible at Machen sports field (C). This has a difficult approach over a housing estate. Watch out for trees, floodlights, rugby posts and overhead cables to the South of the field. Don't land on the field if a match is in progress.
There is also a large field (D) to the SW of take-off if flying the south side, but this requires a long glide over the quarry. Don't use this field if it is in crop. Neither field can be seen from take-off, so pilots are advised to visit both fields before flying to check their suitability on the day. Shoulder landings at (B) are also possible to save a long walk up. Don't land in any other fields and stay clear of horses as they can be spooked easily.
South East Wales sites often have very large, undefined take off and top landing areas, which may change position according to conditions. To avoid the potential for collision, pilots making a top landing should keep well away from gliders taking off, who may in some cases have limited visibility.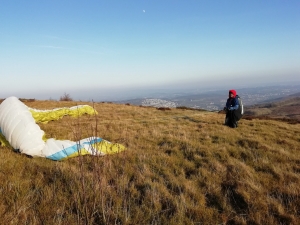 The top take-off of Mynydd Machen.
This site can experience turbulence in strong winds, and is best flown in lighter winds.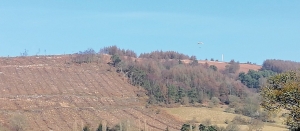 A view of the south and south east side of Mynydd Machen. You can see the distinctive aerial mast on the right of the image. The trees are gradually being removed so that the take-off on the south will be clear again.
Trees on the south and south-east sides. Rotor on north-east take-off has also been experience. Avoid the large aerials and buildings on top of the hill. Model aircraft pilots have been known to use the hill – be considerate of them. Horses are found in many of the fields – avoid landing in or flying low over these fields.