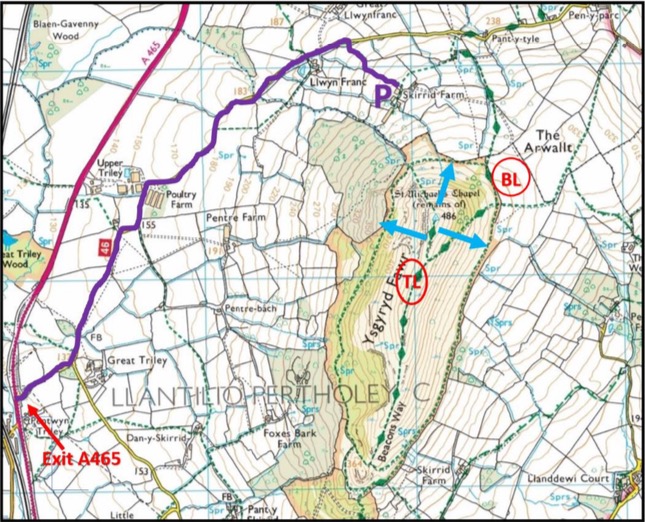 Status: Members Only

Site Latitude:N51.858824
Height ASL Meters:486 m
Site Longitude:W002.972886
Height ASL Feet:1604ft
Wind Direction:ESE or WNW or NNE
Height Top to Bottom Meters:136 m
Best Direction: ESE or WNW
Height Top to Bottom Feet:449 ft
Minimum BHPA Rating Hang Gliding: BHPA CP rating (considered unsuitable due to the long walk up).
Member status:Members only site
Minimum BHPA Rating Paragliding:BHPA CP rating
OS Grid Reference and Prefix:SO 0330182
Take off areas are highlighted with blue arrows on the site map. They are near the trig point, and face WNW, NNE and ESE. There are other smaller and more technical take off areas further south along the ridge, but these are not suitable for training as they are too far from the landing area.
Most areas near the trig point are clear and unobstructed, although this is a popular picnic spot for hikers.
The take off to the WNW is committed as it steepens over the cliff, to the left of the photo the ground drops away before rising again sharply.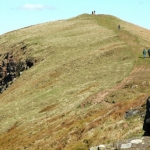 The bottom landing area is marked "BL" in red on the site map. It is in the fields of Fairview Farm to the N and NE of the trig point, approximately a 450ft top to bottom flight. The actual field to be used should be discussed with Mrs Chandler before setting up for the day. Top landing is possible in light conditions on the spine back, or in stronger conditions about 500m south on a small plateau before the final ascent onto the main ridge. Top landing is difficult to teach at the site because the area is out of sight from the take off area and quite technical.
South East Wales sites often have very large, undefined take off and top landing areas, which may change position according to conditions. To avoid the potential for collision, pilots making a top landing should keep well away from gliders taking off, who may in some cases have limited visibility.
The ridge is soarable in the right conditions. In thermic air you are advised not to try and soar close in to the terrain and it would be best to consider this an XC launch in strong thermic conditions.
The site is a spine back ridge with all the associated hazards of such a site. The WNW face has a large scar and cliff at the north end. If soaring well below ridge height, severe turbulence should be expected from the raised ground in front of the cliff.
The WNW face is heavily wooded, and with the Equestrian Centre to the West, should only be soared in favourable conditions.
The ESE face has some bushes and small trees on the lower parts of the slope.
The site is a popular National Trust hiking route and large numbers of people can be expected to be on the hill, especially during holiday periods.