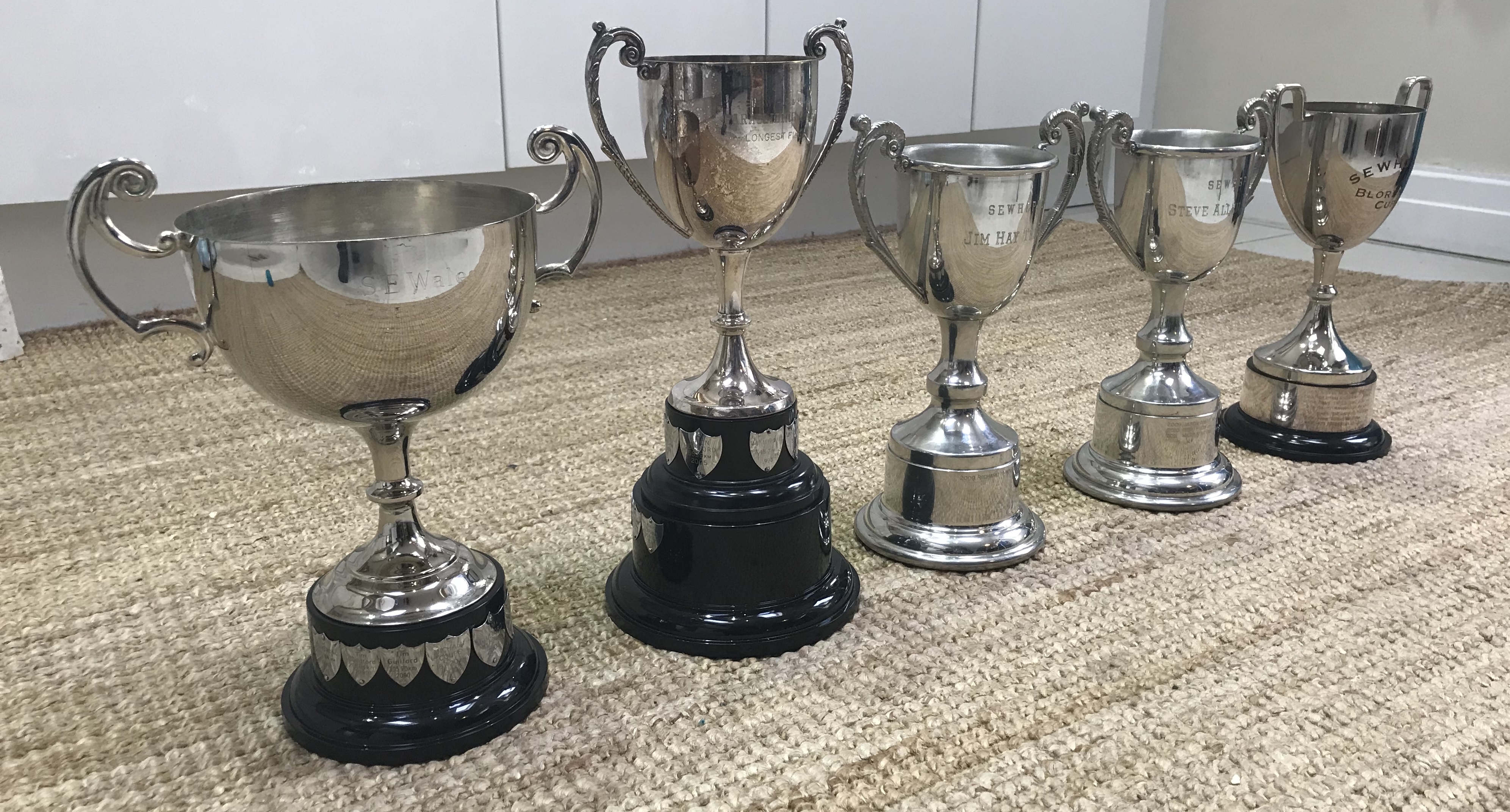 SEW Awards
The club is pleased to announce it has obtained past SEW paragliding trophies and has reconditioned these. They will be awarded to SEW members only. The flying season will commence each year on 01 November and finish on 31 October the following year. Trophies will be engraved with the winners name and then awards will follow shortly after the end of the season.
1.
SEW

XC

League Winner
– Highest position in the National XC League by anyone with their club set as "SE Wales" using the "standard" scoring setting. Results
here
. 2018 winner – James Price.
2. SEW Longest Flight Cup – Furthest flight from any SEW site (Open distance, no multipliers). HG or PG allowed. 2018 winner – Harry Bloxham.
3.
Jim Hay Trophy
– Furthest flight by a newcomer – typically in their first year of
XC
flying (open distance, no multipliers). CP rated pilots only. HG or PG allowed. 2018 winner – Alan Hole.
4. 
Steve Allen Trophy
–
furthest
XC
flight in the
BCC
by a SEW team member (Open distance, no multipliers). Results
here
. 2018 winner – Will Carr.
5.
Blorenge

 Cup
  – furthest flight (using XC League scoring criteria) with take-off from the Blorenge. Multiplier flights (such as triangles or out and returns) and declared flights are recognised for their technical difficulty but must be submitted to the XC League if the competitor wants the multiplier applied. HG or PG flights allowed. 2018 winner – Harry Bloxham.
6. 
Capital Trophy – 
furthest flight by anyone taking off in Wales and landing in Cardiff. HG or PG allowed (see capital trophy page for further details). 2018 winner – Alistair Andrews.
The club would like to support SEW members obtain their
FAI
paragliding badges. Further information on
FAI
badges are
here
.
FAI paragliding awards can currently be obtained for:
Bronze Eagle – Flying 30 km OR Duration 1.5 hours OR height gain of 500 m
Silver

Eagle
– Flying 75 km AND Duration 3 hours AND height gain 1000m (we have confirmed with the BHPA that 3 separate flights can be used to meet these criteria).
Complete a form
here
and submit it to the
BHPA
. Please contact a member of the committee if you would like assistance in getting this signed off.
SEW Distance Medals
This will be awarded to any SEW member who completes a distance flight (in the UK or abroad) of:
25 km, 50 km, 100 km, 100 miles (161 km) or 200 km.
Good luck and safe flying!
Site records
Rules: Open distance and closed loop (out and return, triangle) flights are only recorded in the table below (although any multiplier added by the XC League is not applied as this varies from year to year – so total distance is only counted). Airspace infringements are not allowed. A valid GPS tracklog for the entire duration of the flight must be provided.
If you think the site record has been broken or there is a flight that we have not included then please let us know – it is a difficult task keeping track of all the entries and any entry would be considered. A link to the actual flight log is on the web site with further description.
Sites
Sites
Site name
Distance (km)
Pilot
Year
Abertysswg
28.3 km

137 km

Alex Kennedy (PG)

Justin Needham (HG)

2019

2007

Blaenavon
 11.6 km
 Alex Kennedy
 2018
Blorenge
 100.5 km (Triangle total)
 Harry Bloxham, Luke Nichol, Mark Watts, Lawrie Noctor
 2018
Cwmbran (Fairwater)
 16.6 km
 Andrew Price
 2010
Cwmbran (Mountain Air)
110.5 km
Rich Harding
2019
Ebbw Vale
 82.8 km
 Nick Roberts
 2017
Fochriw
 69.0 km
 Chris Dusgate
 2019
Garth Hill
18 km
Mark Baldwin
 2019
Garway Hill
 253.7 km
 Harry Bloxham
 2017
Hay Bluff
 204.5 km
 Hugh Miller
 2016
Machen
None confirmed
Merthyr Common
338.7 km

169.7 km

Carl Wallbank (HG)

Karoly Megyesi (PG)

2015

2015

Mynydd Meio
56.5 km
Pawel Barton
2009
Nant-y-Moel
 134.4 km
Richard Chambers
 2014
Pandy
 104.3 km
Simon Green
 2014
Pen Cerrig Calch
 210.7 km
 Richard Carter
 2019
Pontlottyn
 28.3 km
 Graham Richards
 2009
Rhigos
 16.5 km
 Lee Brogan
2018
Skirrid
63.4 km
Daniel Starsmore
2019
Sugar Loaf
 91.5 km
 Simon Green
 2016
Talybont
 119.3 km
 James Price & Lewis Price
 2018