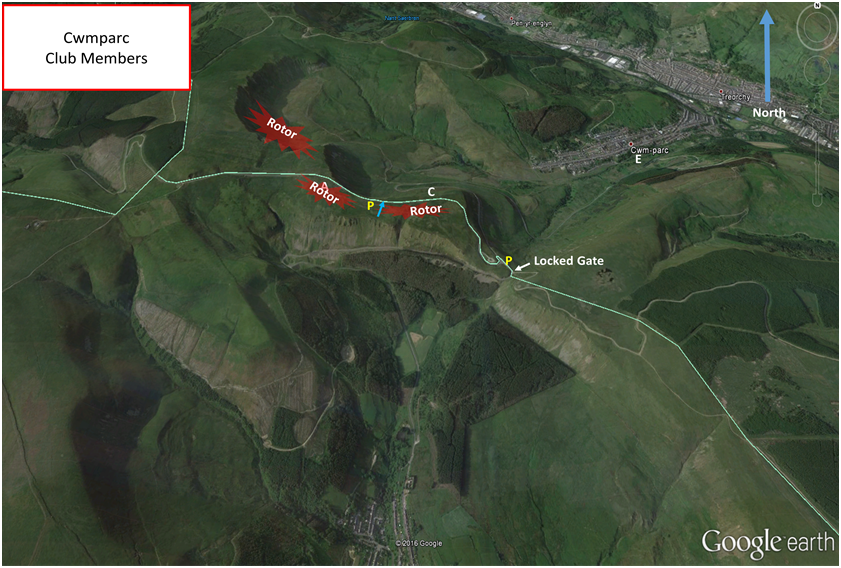 Status: Open

Site Latitude: N51.645365
Height ASL Meters: 490m
Site Longitude:W003.549269
Height ASL Feet: 1,600ft
Wind Direction: NNE - ENE
Height Top to Bottom Meters: 290m
Best Direction: NNE
Height Top to Bottom Feet: 1,000ft
Minimum BHPA Rating Hang Gliding: BHPA Pilot rating
Member status: Open
Minimum BHPA Rating Paragliding: BHPA Pilot rating
OS Grid Reference and Prefix: SS 929 952
From M4 J36 at Bridgend, or from the Rhondda on the A4061.  Alternative from Maesteg and Port Talbot on the A4017.
Parking in lay-by adjacent to main takeoff.
Latitude: N51.644485

Longitude: W003.547793
Vehicular access to lay-by adjacent take-off.
Hang Gliders should take off from the hill behind the road (A).  Paragliders can take off from (B) in light conditions, although it should be noted this is a relatively sharp edge and rotor can be common when laying out the wing.  The more common take off for paragliders in recent years has been in the large flat (more rounded) area (C) and this also takes slightly more northerly wind directions.  If taking off from (C) once in the air, head to the ridge front of take-off (B).
Top landings at (A) and (B) are possible in light conditions but can be turbulent and the landing has to be precise.  Thus, landing in those areas is only recommended for experienced and competent pilots (pilot rated +100 hours suggested).  Top landing at (C) is generally easier for the less experienced or less current pilot.
Bottom landings in the flat part of the bowl are possible for paragliders and area (D) is provides the easiest access to the road.  Beware it can be rough low down in the bowl and it's a long and hard walk out to the road if you land away from area (D), or a steep (almost vertical at times) walk back up.
Hang Glider bottom landing is possible at (E) but beware it's a narrow strip and paragliders will be unable to reach that landing.
South East Wales sites often have very large, undefined take off and top landing areas, which may change position according to conditions. To avoid the potential for collision, pilots making a top landing should keep well away from gliders taking off, who may in some cases have limited visibility.
This is a radical site, its subject to severe rotor behind the cliffs and at take-off and anywhere behind the road.  It is a large bowl that requires light prevailing winds and it can become rapidly blown out with little warning signs.  The site can also be affected by sea-breeze which comes over the top of the southerly ridge and leads to severe turbulence and rotor in the bowl.  It, therefore, requires some specific wind conditions and it is rarely flown by hang Gliders and only occasionally by paragliders. Late evening with light restitution type winds once the sea-breeze has receded tends to be the best (and safest) time to fly this site.
Severe rotor in areas marked is typical rather than possible.
Sea-breeze results in rapid switch of wind direction and severe rotor and turbulence in the bowl.
Model aircraft are often flown this site, sometimes large (world ranking) model aircraft competitions are held here.