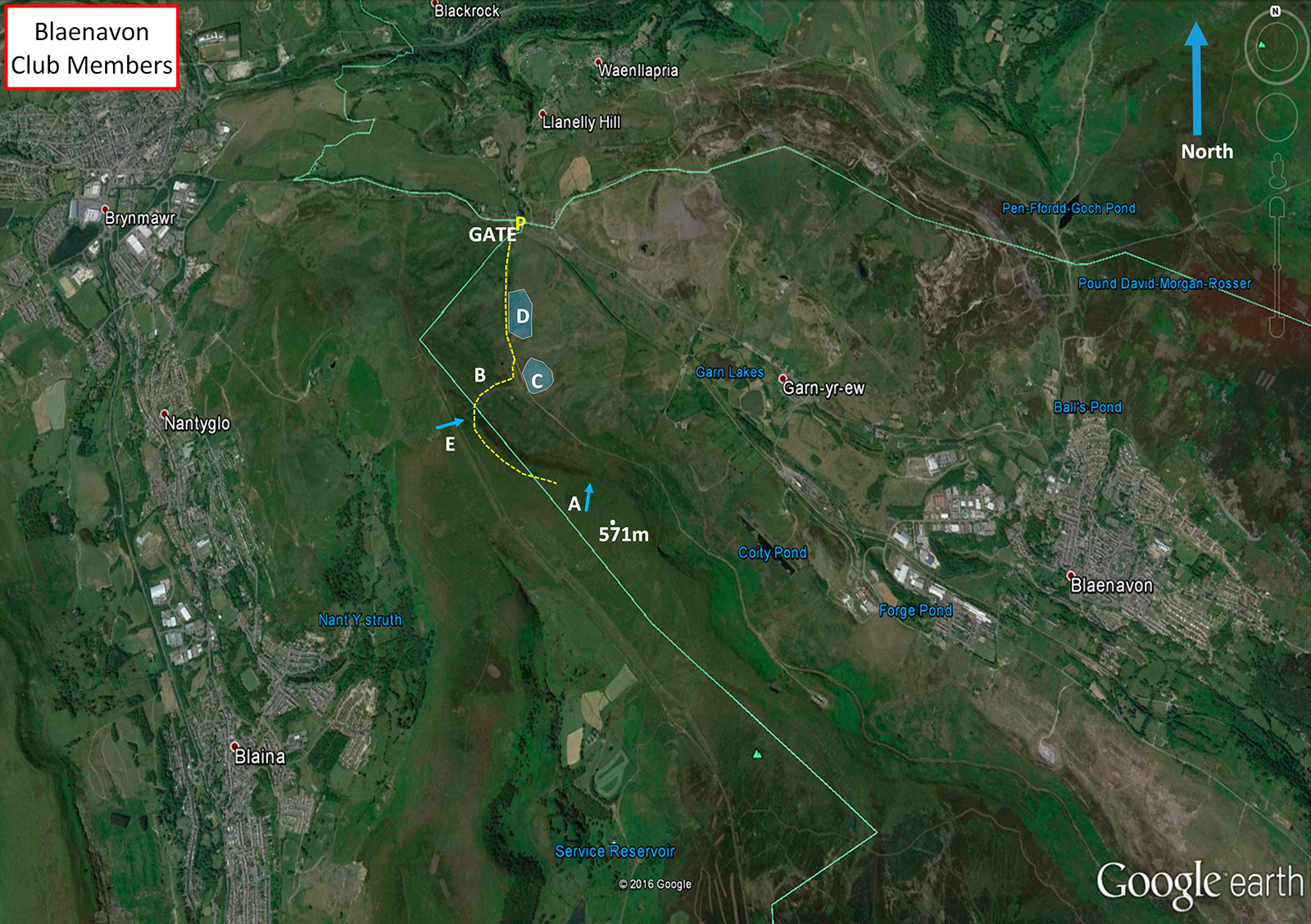 Status: Members only

Site Latitude: N51.781327
Height ASL Meters: 550m
Site Longitude: W003.139240
Height ASL Feet: 1,800ft
Wind Direction: NNE – ENE
Height Top to Bottom Meters: 110m
Best Direction: NE
Height Top to Bottom Feet: 350ft
Minimum BHPA Rating Hang Gliding: BHPA CP rating
Members Status: Members Only
Minimum BHPA Rating Paragliding: BHPA CP rating
OS Grid Reference and Prefix: SO 215 096
Latitude: N51.792839
Longitude: W003.135333
From Blaenavon or Brynmawr take the B4248, then by the cattle grid, turn into the parking area at the old mine access road.
Park in the parking area at the gate. Please do not block the footpath or cycle path.
Access to take-off is by foot only (a hard carry up). Lots of space to rig on top of the hill, with an easy gentle rounded take-off. Take-off E for ENE to East, or take-off A when the wind has more North in it.
Top landing area between (A) & (E) is vast, but the ground is rough and the front section slopes gently to the edge of the hill. Top landings should be carried out well away from pilots taking off. There is a fence that runs along the hill about 50mtrs behind take off. Slope landing by paragliders presents no real problems. The land between the hill and the road (B) is rough and broken and not recommended for hang glider bottom landing, however landings by paragliders are possible with care. Hang gliders should land on the other side of the road.
The obvious flat section of land (C) drops away sharply into a bog, on the side furthest away from the hill. Hang gliders need to make an accurate approach in order to avoid the likely consequences of an overshoot, bent metal. The bog already contains the remains of one aircraft, a Halifax Bomber (22nd May 1944). This area is easiest when the wind is off to the North. If in doubt land on the rough open common (D) to the North of the flat area, just before the embankment.
South East Wales sites often have very large, undefined take off and top landing areas, which may change position according to conditions. To avoid the potential for collision, pilots making a top landing should keep well away from gliders taking off, who may in some cases have limited visibility.
A fairly friendly site, particularly late in the day, though capacity is limited if the wind is off. A pleasant ridge run of around 5km (3 miles) to Varteg is possible in the right conditions.
No real hazards. But the site is frequently used by schools and low airtime pilots, and can therefore become quite crowded.