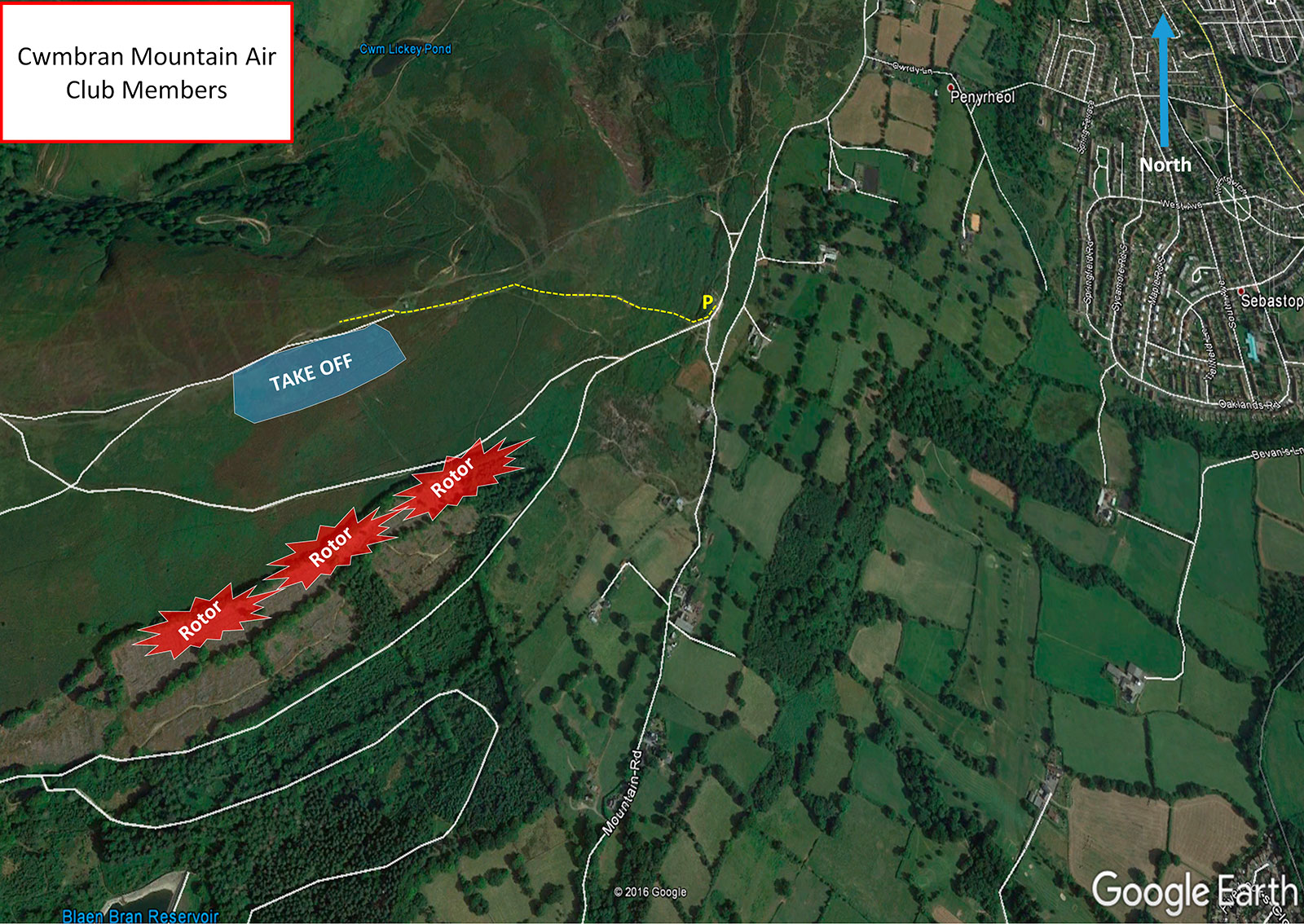 Status: Open

Site Latitude: N51.675372
Height ASL Meters: 472m
Site Longitude:W003.056106
Height ASL Feet: 1,550ft
Wind Direction: SSE - S
Height Top to Bottom Meters: 120m
Best Direction: SSE
Height Top to Bottom Feet: 390ft
Minimum BHPA Rating Hang Gliding: BHPA P rating
Member status: Members Only
Minimum BHPA Rating Paragliding: BHPA P rating
OS Grid Reference and Prefix: ST 268 979
Latitude: N51.676539
Longitude: W003.046337
You can take the Mountain Air road either from Pontypool or Cwmbran.
If you're coming from Cwmbran head towards Siloam Baptist Church, Upper Cwmbran, NP44 5AG. Get on the Mountain Air Road, follow it up the mountain until the road flattens out you will then see a turning on the left leading to a large car park. You can then walk up the mountain from there heading towards the TV mast on top of the mountain. Walk up time abound 15 minutes.
Park in the parking areas, Lat/Long above.
Walk past TV mast where you will find plenty of places to take off.
The top landing area is a little tricky for hang gliders and needs careful planning. Watch out for the mast. Paragliders will find slope landing difficult because of the steepness of the slope, the bracken cover, and the trees at the bottom, which cause significant rotor. Bottom landing is possible on scrub/common land to the SW of the car park, but note that there is a high voltage cable on the other side of the road, so overshooting is not an option. Where possible, pilots may find it more sensible to land on the shoulder of the hill, just behind the path that they have walked up to take off, taking care on the approach not to go too far back into wind shadow from the front of the hill.
Thanks to Richard Harding for this re-wording
South East Wales sites often have very large, undefined take off and top landing areas, which may change position according to conditions. To avoid the potential for collision, pilots making a top landing should keep well away from gliders taking off, who may in some cases have limited visibility.
During the first few hundred feet of height gain, watch out for turbulence from the trees below ridge level. In strong thermic conditions the air can become rough there due to the tree line at the bottom of the slope.
There is a clay pigeon shooting range behind the Mountain Air Inn on Sundays, look for the red flag.