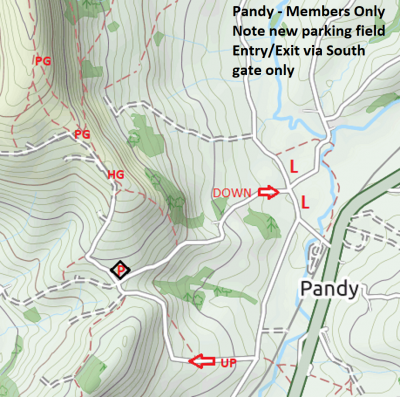 Status: Members Only - OPEN, NEW UPPER PARKING

Site Latitude:N51.90546
Height ASL Meters:328m
Site Longitude:W002.992672
Height ASL Feet:1075ft
Wind Direction:NE - ESE
Height Top to Bottom Meters:220m
Best Direction: ENE
Height Top to Bottom Feet:730ft
Minimum BHPA Rating Hang Gliding: BHPA CP rating
Member status:Members Only
Minimum BHPA Rating Paragliding:BHPA CP rating
OS Grid Reference and Prefix:SO 318 234
Bottom take-off (A) is a moderate carry from the car park. Get ready away from the small take-off area and do not block paths. Take-off can be turbulent in strong winds and it is easier to take off on the top take off when it is strong due to shape of the topography (B).
Top landing can be tricky and should be treated with caution. Hang gliders should not attempt to top land whilst flying at min sink. The safest and most predictable top landing area is well back on the shoulder, behind the track. Landing by the trig point is not recommended due to severe rotor. Hang gliders are advised not to attempt to land back on the lower take- off as the air can be very unpredictable.
The main bottom landing field can be identified by a barn in the corner by the gate and is within walking distance of the Old Pandy Inn (for paragliders). Retrieve vehicles can be parked in the field next to the gate, but don't drive beyond the barn and don't park on the road.
Note the farmer often plants crop in the second half of the landing field – land in the unplanted half of the field in this case.
The long field to the south of the main field can also be used if necessary providing livestock are not present. Stay clear if there are horses present.
South East Wales sites often have very large, undefined take off and top landing areas, which may change position according to conditions. To avoid the potential for collision, pilots making a top landing should keep well away from gliders taking off, who may in some cases have limited visibility.
A scenic site with a ridge of around 10 Km (6 miles). In the right conditions it is possible to jump the gap ("the Cat's Back") at the end of the ridge and fly on to Hay Bluff. Beware, the site can be turbulent in strong winds, particularly when it's off to the North.
Rotor can be severe in strong winds. Beware of rotor behind the large tree to the North of the lower take-off. Paragliders should not allow themselves to drop much below the lower ridge due to the turbulence caused by the trees not far below.
Do not get caught behind the Cat's Back in strong winds due to turbulence.