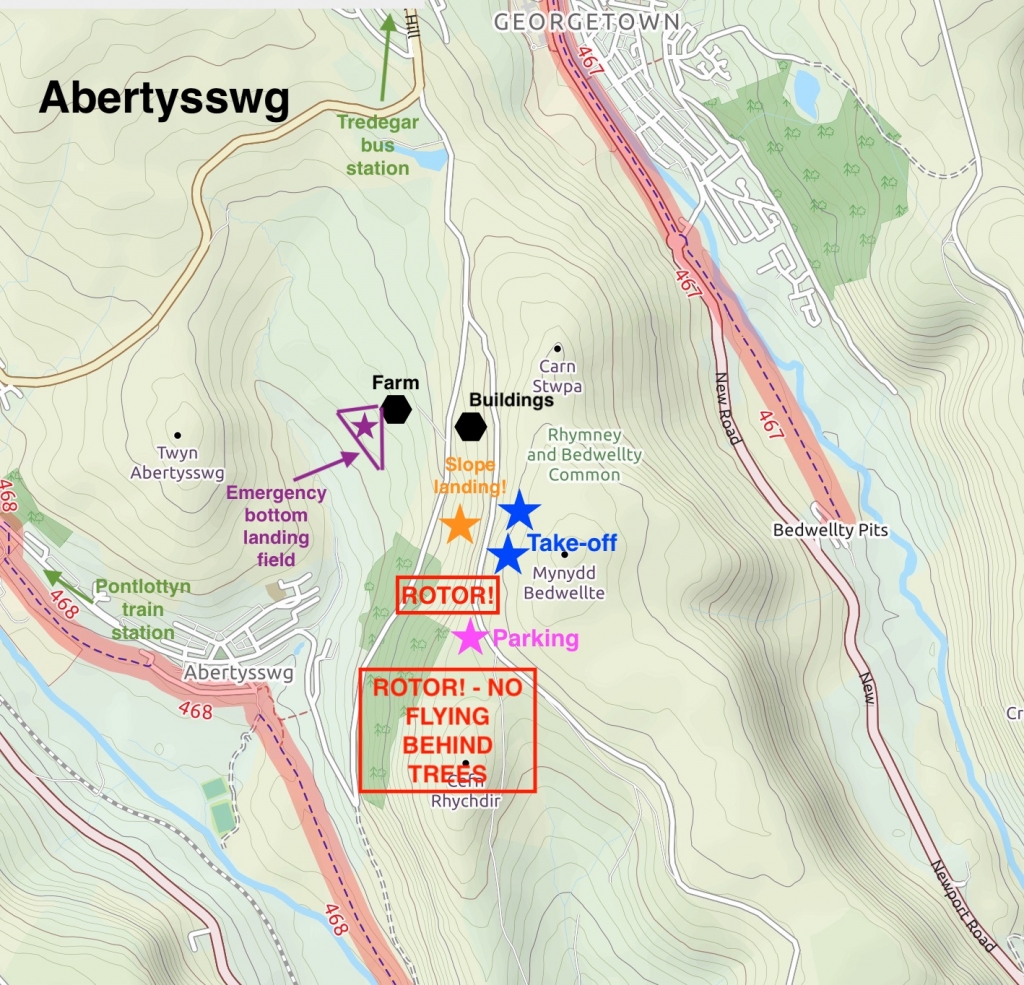 Status: Open

Site Latitude: N51.744371
Height ASL Meters: 430m
Site Longitude: W003.2451376
Height ASL Feet: 1400ft
Wind Direction: W – NW
Height Top to Bottom Meters: 75m
Best Direction: WNW
Height Top to Bottom Feet: 250ft
Minimum BHPA Rating Hang Gliding: BHPA CP rating with supervision
Member status: Open Site
Minimum BHPA Rating Paragliding: BHPA Pilot rating
OS Grid Reference and Prefix: SO 141 058
From Tredegar on minor roads towards Markham, or North from Markham to Tredegar.  Due South of NP22 5BQ but on the more easterly single track road
Park along the layby at the edge of the road ensuring enough space is left for gliders landing, or being carried forward across the road.
Take-off is on the west side of Mynydd Bedwellte which overlooks Abertysswg.
Before taking off make sure you are not upwind of the conifers as they are getting tall now and can produce dangerous amounts of rotor. Take-off clear of rotor, further north of the confers now – but don't forget to account for the road and any traffic using it. Do not fly if the wind is south of WNW. The site can be turbulent in strong winds. Care and control is needed when launching paragliders in strong winds, as take-off is narrow, with rigged hang gliders and vehicles close by. If you are not sure of the true speed and direction of wind then check at the top of the hill first.
Top landing is easiest on top of the hill which is about 120ft higher than takeoff. In lighter winds, particularly when it's off to the North, the area behind the road an be used.
Top landing a hang glider in front of the road south of takeoff requires a great deal of experience and precision and is not recommended.
Slope landing is possible for paragliders by the side of the road at the bottom of the hill marked on the map. This area is small, uneven and slopes. It's also a crosswind landing for hang gliders and difficult and not recommended for hang gliders.
The emergency bottom landing field (triangular shaped field marked with purple star on the map) is available outside of the lambing season. Be aware there is are power lines running north towards the farm. Always leave by the gate at the bottom of the field, and carry gliders up to the road. This is a long carry out over rough ground. Please don't park on the farm track. Note if the farm gates are shut the farm security dogs are loose, do not enter the farm at these times.
Up to 20 gliders can be accommodated in the right conditions, but it can be turbulent in strong winds. Wave is quite common.
Beware of moving vehicles and rotor from parked cars if you top land close to the road. Stay clear of the lee side of the trees as there can be very severe turbulence. The quarry to the South can also be turbulent and is to be avoided by low air time pilots.
Be aware of power lines and telegraph poles between the lower road and landing field.