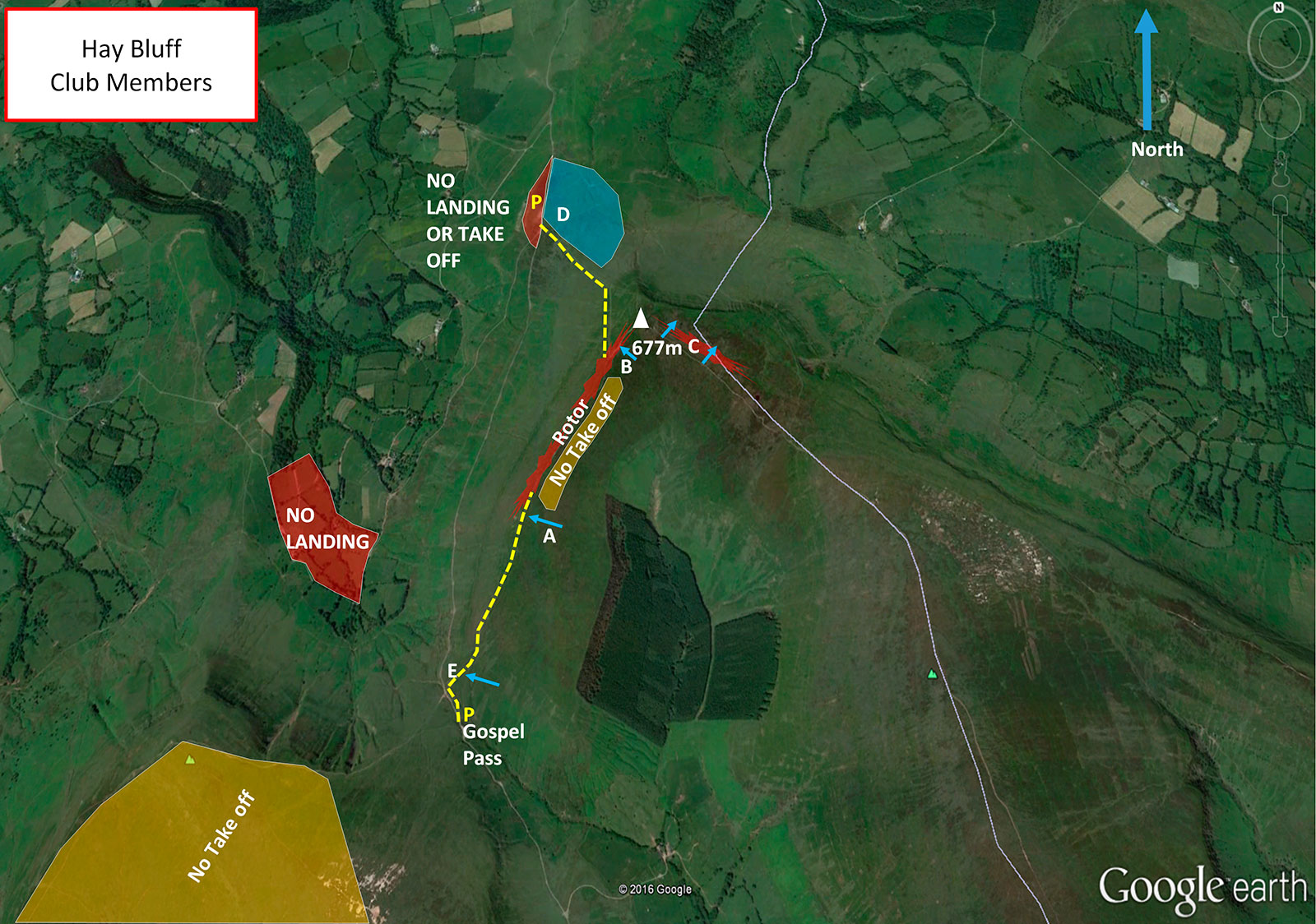 Status: Open for Weekend Flying Only - SEW Club Members Only Site

Site Latitude: NW N52.022646 / NNE N52.024457
Height ASL Meters: 677m
Site Longitude:NW W003.103181 / NNE W003.101768
Height ASL Feet: 2200ft
Wind Direction: WNW-NNW & N-NE
Height Top to Bottom Meters: 200m
Best Direction: NW & NNE
Height Top to Bottom Feet: 660ft
Minimum BHPA Rating Hang Gliding: BHPA CP rating
Member status: Members Only
Minimum BHPA Rating Paragliding: BHPA CP rating
OS Grid Reference and Prefix: SO 244 366
Gospel Pass NW Take-off (A). This take-off is for hang gliders only. In stronger winds, it is possible to take-off from the mound (E) at the foot of the hill and climb up onto the main ridge. In lighter winds, or for less experienced pilots it is recommended to carry up to the top of the hill, a hard carry up. The top take-off is steep but friendly.
The Bluff NW Take-off (B). A long hard carry up. Hang gliders and paragliders should take-off from the area between the top of the main path up the hill and the trig point.
The Bluff NE Take-off (C). A long hard carry up. Hang gliders and paragliders should take-off from the obvious grassy saucer shaped area immediately adjacent to the trig point.
No launching from below the top of the hill. Always use the agreed top take-off areas at the Bluff and at Gospel Pass or the lower take-off area at Gospel Pass. Paragliders may experience dead air and rotor just behind take offs, making it a tricky site in strong winds.
The top landing area is large but the ground is quite rough. Always top land away from gliders taking off. Bottom landing is only permitted on rough ground (D) at the foot of the Bluff. Do not land in the car park! Hang gliders need a careful approach as the ground slopes gently towards the road and the gorse can all too easily catch the base bar, with unpleasant results. Hang glider pilots may also land on the lower take-off (E) at Gospel Pass.
South East Wales sites often have very large, undefined take off and top landing areas, which may change position according to conditions. To avoid the potential for collision, pilots making a top landing should keep well away from gliders taking off, who may in some cases have limited visibility.
There can be a large lift band which extends out beyond the road in good conditions. This site has a very pronounced venturi and can be far windier on the top than in front of the ridge, so check before top landing.
Beware of sailplanes from the nearby club at Talgarth. Beware of rotor behind the NE cliffs and rotor on the NW ridge in strong winds.