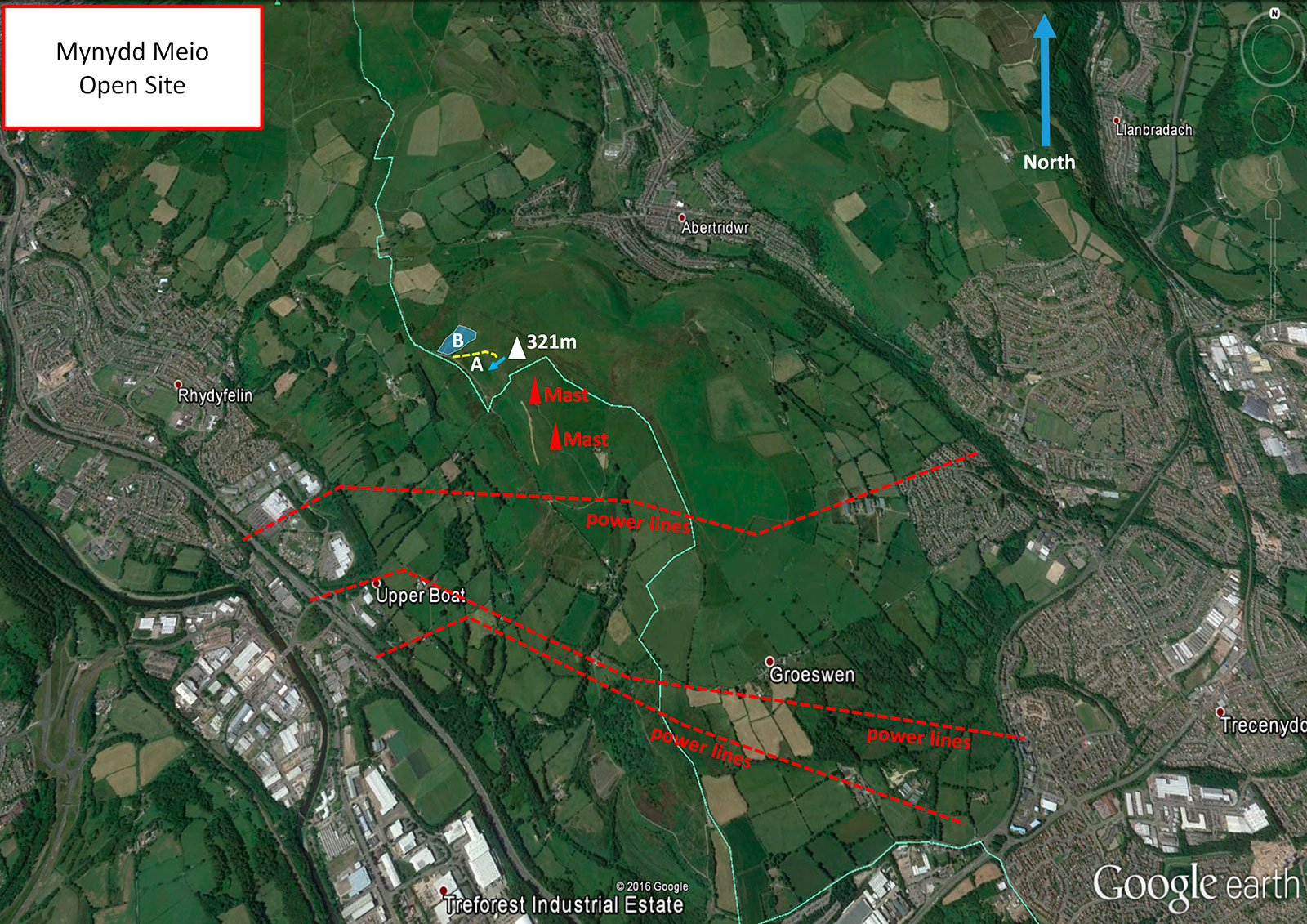 Status: Open

Site Latitude: N51.587116
Height ASL Meters: 320m
Site Longitude:W003.281867
Height ASL Feet: 1050ft
Wind Direction: SSW-WSW
Height Top to Bottom Meters: 60m
Best Direction: SW
Height Top to Bottom Feet: 200ft
Minimum BHPA Rating Hang Gliding: BHPA CP rating
Member status: Open Site
Minimum BHPA Rating Paragliding: BHPA CP rating
OS Grid Reference and Prefix: ST 113 882
By minor roads from the A470.
Access to take-off is by foot only and is short sharp carry up the face of the hill. The rigging area is large and the take-off is friendly. Park at the bottom on the verge or in the lay-bys at the bottom of the hill.
The top landing area is extensive and quite flat.
Paragliders can bottom land on the open hill alongside the road (A), but there is not enough room to safely land a hang glider there. The emergency bottom landing field for hang gliders (B) is at the bottom of the hill to the right of take-off. This field is small and the landing approach difficult. Please do not fly a hang glider unless you are sure it is soarable, or you possess the necessary skills to land in the emergency landing field. Please do not land in any other enclosed fields, or climb walls or fences.
South East Wales sites often have very large, undefined take off and top landing areas, which may change position according to conditions. To avoid the potential for collision, pilots making a top landing should keep well away from gliders taking off, who may in some cases have limited visibility.
This site can be a good choice if Nanty Moel is busy. It's fairly friendly away from the power lines, but the short ridge length and narrow lift band limit the capacity of this site on non-thermic days. Be aware the airspace ceiling is 4000 ft.
Beware of power lines and the TV masts. Keep a sharp lookout for model aircraft. Be careful of rocks and fences when soaring in close to the ridge. The A470 valley in front of take-off is full of power lines and pylons, pilots should therefore not attempt to fly to the valley bottom.
The field to the north of the hill is occasionally used for clay pigeon shooting. Do not fly immediately down wind of this field when shooting is taking place.