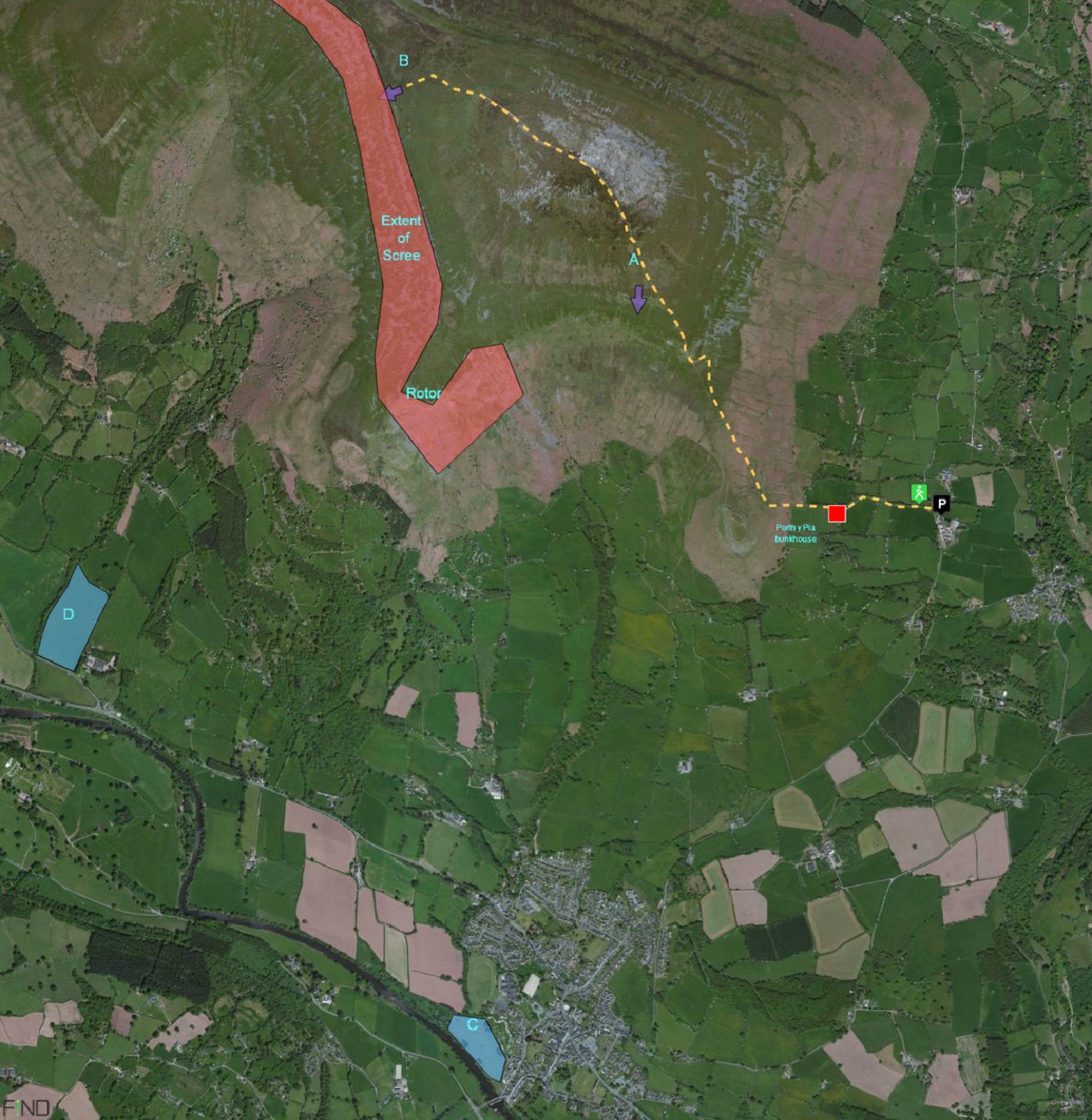 Status: Members Only - Day pass required

Site Latitude: S - N51.888208 SW - N51.895686
Height ASL Meters: 605 & 640m
Site Longitude: S - W003.131727 SW - W003.147033
Height ASL Feet: 1990 & 2100ft
Wind Direction: SSE-SSW & SSW-WSW
Height Top to Bottom Meters: 550m
Best Direction: South & South West
Height Top to Bottom Feet: 1800ft
Minimum BHPA Rating Hang Gliding: BHPA Pilot rating
Member status: Members only Site
Minimum BHPA Rating Paragliding: BHPA Pilot rating
OS Grid Reference and Prefix: SO 220 216 & SO 211 227
Access to take-off is via the footpath starting at the gate to Porth Y Pia. There are many footpaths up the hill, but this is the recommended one for both take-offs.
From the road take-off A is about 2km and take-off B a further 1.5km.
All top landings are relatively easy with a gentle slope to hill edge.  Any paragliders slope landing need to be aware of the uneven ground and isolated rocks hidden within the bracken and grass.  If slope landing do so within the hill enclosure as no permission has been granted within the enclosed fields below take-off.
From take-off A, use the bottom landing field C.  This is a meadow used as a public amenity area.  This landing area has a couple of trees and rubbish bins within the meadow.  In stronger valley winds from the West the trees to along the Western side can create rotor and therefore in this instance aim to land within the Eastern side of the meadow.
From take-off B, use the landing field D.  This field slopes gently away to the South.  Pack the glider away near the gate to avoid trampling grass that may be cut for silage
South East Wales sites often have very large, undefined take off and top landing areas, which may change position according to conditions. To avoid the potential for collision, pilots making a top landing should keep well away from gliders taking off, who may in some cases have limited visibility.
The site is best suited for use as a XC site on light wind days. The gentle slope on take-off away from the top of the mountain does however permit an easy take-off in moderate winds.
Thermals will move up the mountain from the take-off before releasing from the peak.
Both landing fields can be reached on a glide from the take-off height, but pilots need to ensure they make the decision to leave the hill with sufficient height.
The main hazards of the site are the large rocks on the slopes below take-off.  Some of these are clear as areas of scree but many are hidden with the bracken, this hazard is particularly relevant to the SW take-off and extreme care is required if attempting to slope land.
The cliffs on the southerly spur (The Darren) between the two take-offs will produce some rotor in stronger winds.